So, Supah started this 2 Weeks ago, and I got over 25 more twitter followers and almost 10 more blog followers between the 2 blogs. It works, YO. Click my pretty button...follow me...then follow the rest of the instructions listed below!
1. Follow me on twitter . Click on my twitter Icon above.
2. Shout me a hello on twitter. #yotweeps Then I'll know you followed and I'll reciprocate.
Want more tweeps?
3. Grab the YO Tweeps Button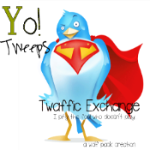 4.. Place it on your blog. This helps to BRAND the Exchange so that it is recognizable.
5. Put a twitter icon / link on your blog post like I did. ( little birdies)
6. LInk that post up below.
7. Visit some other YO Tweeps linkers on the list.
8. Follow them if you choose and shout out to them on twitter that you did.
Example: @lovemyfiredawg #yotweeps I'm following!
9. If someone follows you, reciprocate. It's that easy.
Much Love!!